SOUTHLAND CO-OP DESIGNATED COVID-19 WORKSAFE LEADER
Actions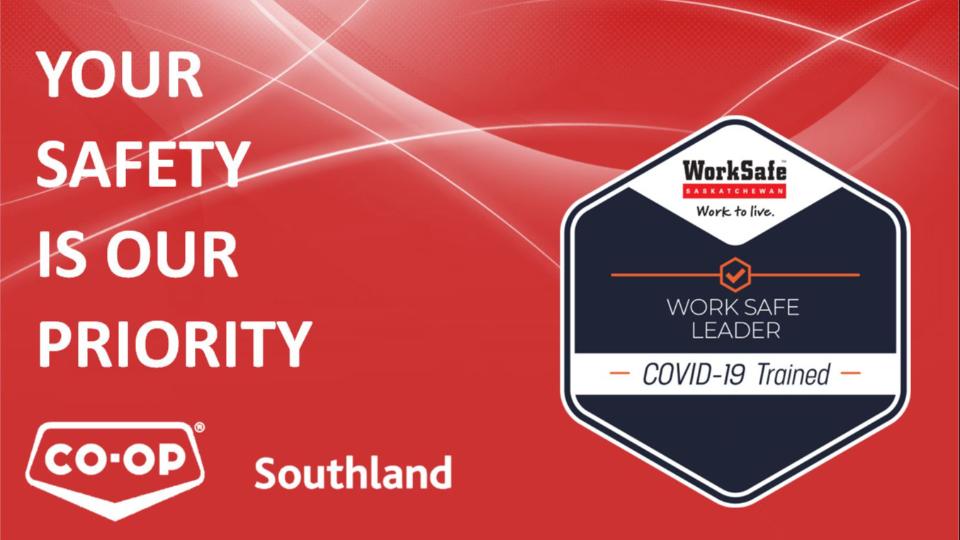 SOUTHLAND CO-OP DESIGNATED COVID-19 WORKSAFE LEADER
April 12, 2021
Safety is a top priority at Southland Co-op. When the pandemic started last year, we were quick to implement safety protocols to provide a safe shopping experience for our customers and staff with one-way aisles, plexiglass barriers, and enhanced cleaning schedules.
We believe in a workplace with zero injuries, and we believe in Mission Zero. Southland Co-op signed on to the WorkSafe Saskatchewan Health & Safety Leadership Charter in 2016.

In 2021, WorkSafe Saskatchewan created a COVID-19 WorkSafe course "aimed to provide employees with practical knowledge and training to help keep themselves, their coworkers, and their customers safe". Southland has shown progressive and committed effort in combating the spread of the virus. Over 95% of our employees have taken the course, and we we are pleased to share that, for this effort, WorkSafe Saskatchewan has designated Southland Co-op a COVID-19 WorkSafe Leader.