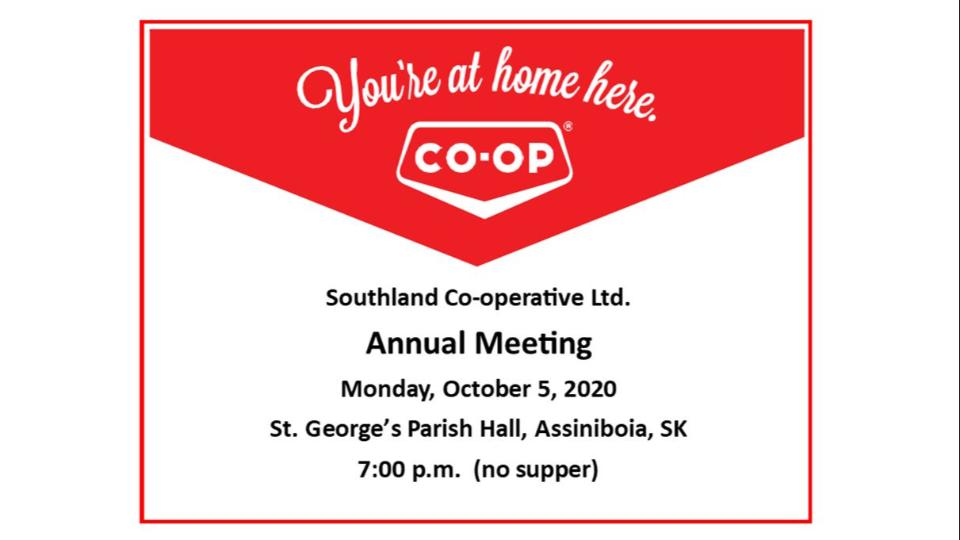 2020 AGM
September 29, 2020
Due to the COVID-19 Pandemic and SHA rules, we hosted a condensed version of our annual meeting. Only 30 members were allowed to attend the meeting where we reviewed the financial statements, announced the results of the election for Directors that was held in March, appointed the auditors for the upcoming year, and heard a few comments from our President and General Manager.

The following bylaw to allow Southland Co-operative to accept on-line memberships was passed:

No person may become a member of the Co-operative unless that person has:
Renumbered: (a) submitted a written application for membership,
Or (b) completed an online membership application utilizing a checkbox as consent for signature and submitted via Southland Co-op's website,
And (c) the said application has been approved by the Board or by a committee thereof.


Reports from the General Manger, Board Chair, Returning Officer and Directors may be found on the attached PDF.
A copy of the Financial Statements is also included on the PDF.
Complete copies of the Financial Reports are available at each location, or contact MR@southlandco-op to request a printed copy or a digital PDF copy.